About Zhongyin

Jiangsu Zhongyin Machinery Co., LTD. is located in Donglai Town, Zhangjiagang City, Jiangsu Province. It has international standard workshop more than 15000 square meters. It is one of the professional beverage packaging machinery manufacturers with collecting research, development and manufacturing. It is China's best beverage machinery equipment suppliers. As liquid packaging industry enterprise, the drink service network is all over the world more than 30 countries and regions, products are widely used in drinks, flavor, cosmetic, beer, milk, and pharmaceutical industries. Since company has begun, focused on the professional technology --- beverage packaging machinery, to forge leading beverage packaging machinery, upstream and downstream related both beverage packaging equipment research and development. Always adhere to technological innovation to drive the company development. It has been applied for patents, has formed a unique market with competitive advantage. In order to make our equipment performance better and more stable of operation, our company cooperates with domestic professional institutes, colleges and universities to carry out the combination of the filling machine and optimized the related equipment design, especially with Shanghai jiaotong university school of mechanical engineering. Using Shanghai jiaotong university, wuxi institute of food engineering technology and other universities' strong technology research and development strength, to analyze the foreign advanced technology, digestion on the basis of absorbing foreign advanced technology, to change our original design perfectly, and achieved good results.
Enterprise qualification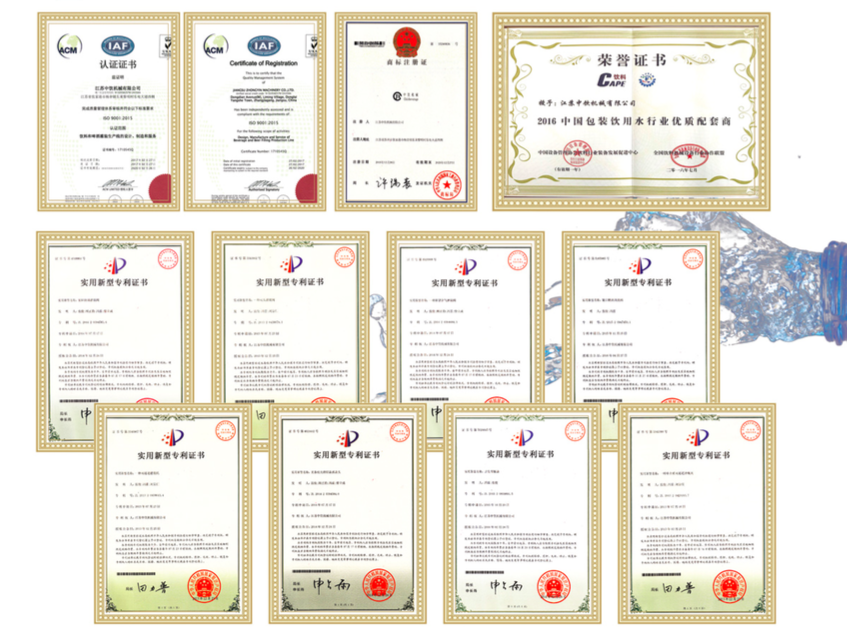 Our company is based on ISO9001:2015 quality management system as product quality assurance system, strictly control product quality in each link, with quality as the goal, the customer as the center, provides the perfect service for each customer.