Water

Water
Water is mankind's most precious resource. As the world's population and urbanisation increases, demand for affordable and safe drinking water follows. Consumer trends are also evolving, moving away from sugary drinks in favour of healthier on-the-go options.
Currently, PET is the material of choice in this growing market, accounting for 86 % of all projected bottled water in 2016. Durable and lightweight PET gives beverage producers worldwide the opportunity to take advantage of this market growth.
Bottled water production requires the utmost attention to hygiene. However with demand increasing so steadily, it is also necessary to maximise production output. Full control and transparency are essential, as consumers ask for bottle shapes with a premium feel and look for bottled water that exceeds the quality of tap water. Ongoing attention to improving and supporting your water line performance is part of Zhongyin's commitment.
Whether your line requires individual improvements, upgrades or replacements, we can provide the solutions needed to achieve your water production's potential.
At Zhongyin, we help you produce high-quality, affordable drinking water every step of the way with our complete line solutions.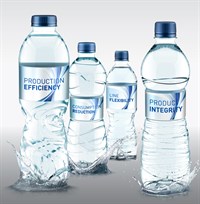 A fully connected line helps you optimise performance and make smarter decisions across the lifetime of your line. Our flexible approach supports your need for increased productivity and efficiency, while minimising waste and environmental costs. Reductions in resource consumption and bottle weight, retaining bottle durability and high efficiency, are all achieved through careful packaging design, detailed equipment planning and line setup. Discover our complete water solutions and see how we can help you strengthen your water line for optimal performance and flexibility while lowering your total cost of ownership.